How well do you know Special Unit 2???

Every one who sends in trivia answers before I update the new trivia each week will get 3 VHS Label spines for your video collection.

Sorry about not getting trivia up for the Years. I'll make it up those who actually try and figre out the answers. Please be sure to send in your answers, this is like a weekly contest where you don't know what I may put up for a prize...

- Knowledge of The Eve-

Which building was closest to the moon and nearest the sea?

How tall was the Hobgoblin?

What is a type 3?

How many witnesses were at the haunted house fiasco?

What are things Al Capone and the others didn't miss while they were dead?

What was getting old to Carl?

What did Jonathan put the ancient scroll on top off?

How many times did Carl deck Nick?

When did Julie die?

What should Captain Page get into, that he is obviously good at?

Which cemetary was it, that the deadites were brought back to life?

How many times was the buffet mentioned?

What didn't Al Capone like about his wardrob?

If the wind was going to shift, what would you do?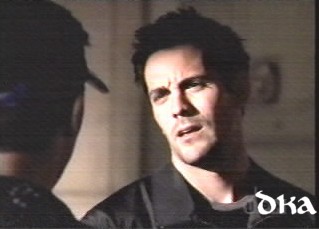 Last Weeks Trivia:
How long did Nick's kiss with Isabelle last? Six Seconds

What blew up the limo? A bomb, not the wreck itself.

What was Nick drinking when he met Isabelle at the club? Sour Apple Martini

What was Isabelle's top line of clothing? Chromas

How old was Eddie when he passed away? Eddie was 65 years old.

At what time did Carl rob the convenient store on 3rd? 11:23 pm

What did Carl have in his poseession during said robbery? an Icee Freeze slurpree, red to be specific.

How many martini glasses were in the set Isabelle gave to Nick? It was a set of four martini glasses...

How many candles were in the hotel room? 10 candles

Who's bachaleor party was Carl supposed to go to? Larry's Bachelor Party of course...

What was the hotel room number? Room # 1401

What was Carl's idea for a wedding gift? Italian leather feedbags.

What is the price for having "no standards"? Fifty dollars

What was one of the numbers on the planes at the hangar? 148