Pictures Coming Soon!
Night Vision Monocular

One of the most popular surveillance gadgets used by Special Unit 2 officers is the Night Vision Monocular. Fully equipped with Infrared Illuminator, which draws on the 2 AA battery power supply. This scope is also able top detect the body heat of any man, link, or beast. The tube itself is of a Gen. II+ design. The Gen. II+ tube is the exact same kind of tube the military uses, so it's strong as hell. Try and run over this tube with Sherman tank and it will still work like new. Other features include a field of view at 14 degrees. The distance of sight with this monocular is 300-350 meters and is very light weight at under 2 lbs. This is the choice observational tool for nighttime stakeouts and hunting. Of course you just can not buy these in stores, these are SU-2 custom jobs utilizing both military concepts and concepts of our own.
Night Vision Goggles
The Night Vision Goggles themselves are also a hybrid of military concepts and SU-2 concepts as well. These goggles weigh in at just under 1 lb. And have a special headpiece with extra padding so the goggles don't dig into the forehead making the goggles a pain to use when not locked in place. The easy flip-up design of the goggles to raise the goggles up when not in use is a very popular feature amongst officers. The field of view is 37 degrees, the tube is once again a Gen. II+, with the viewing distance is up to 200 meters in clean conditions (no clouds, no haze etc...) and in light hazy conditions the viewing distance is 100 meters. Also, included is the special Infrared Luminator that accentuates the depth of view powered by AA batteries. Carl, himself said that if anything was worth "borrowing" from the surveillance room it would be the Night Vision Goggles "because of the high quality construction and range in night time viewing, they would have a high retail value amongst some of my cohorts."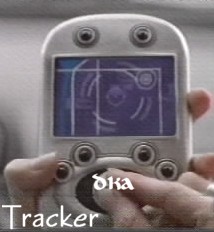 Tracker
When a barium tracer is embedded into the target, living or inanimate, the tracker can trace said target within the greater Chicago area. While most tracking devices operate on radio signals. The tracker operates on the radioactive energy of the barium while incorporating state of the art satellite tracking systems to accurately pinpoint to the millimeter where said target is. We enter every episode from the viewpoint of the specific target to appropriately distinguish how precise the satellite uplink is. The system specifically locates the barium as its sole directive. Very efficient, these Trackers have plenty of options, you watch the big game, check e-mail, and track a vicious, murdering Link at the same time.