CD's
The Black Scorpion soundtrack CD featuring music by David Russel has been out for some time. Forgive my negligence, but you may or may not find it in retail stores. The larger stores with huge sections of soundtracks may have it but it can be purchased at various websites like Amazon.com, CDNow.com, to name a few....
Trading Cards
***Special Note: This is a preview set to promote the upcoming full Season 1 set coming out be sure to keep coming back for further updates. The full set is tentatively scheduled for a fall release.***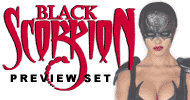 DVD
(You can find links to VHS versions on the same pages)
***New Update***
"Black Scorpion: The Complete Series" is now available on DVD. Locating this box set isn't exactly easy but I recommend Overstock.com. I bought my copy for $35 and just a couple dollars for shipping. Best deal I've had all year.
Also, "Sting of the Black Scorpion," which is a splicing of the first two episodes on DVD is not worth your purchase. It's choppy and messy and makes no sense at all. I'm glad Corman didn't do this with the series.
Black Scorpion (Original Movie) DVD and VHS
Black Scorpion 2: Ground Zero (Second Movie) DVD and VHS
Sting of the Black Scorpion - The first dvd release of the television series. Featuring the episodes "Armed and Dangerous" and "Blinded by the Light." I will be back with more info and perhaps a review of the dvd once I get it...
Other Places to Check for these movies: